Print this page

Parents, educators, advocates, and attorneys come to Wrightslaw for accurate, reliable information about special education law, education law, and advocacy for children with disabilities.

Begin your search in the Advocacy Libraries and Law Libraries. You will find thousands of articles, cases, and resources about dozens of topics:
IDEA 2004 l Special Education l Law l Advocacy
Books, DVDs, Websites
Newsletter: Subscribe to the Special Ed Advocate.
This issue of the Special Ed Advocate is about parent rights and responsibilities for IEPs. Get answers to your questions, learn about IDEA requirements for IEPs, and find out how you can take an active role in the IEP process. Parent Power at IEP Meetings!
New! Watch and Listen Pete has posted several videos on YouTube. Some of the slides are from his Wrightslaw Conferences. Topics include RTI, Test Protocols, Organization of the File, False Child Abuse allegations, and more. Click here for the link to the YouTube Wrightslaw Channel and the new case about false allegations of child abuse lead to jury trial!
Regulation Revised! Access to Medicaid benefits revised! On February 14, 2013 the US Dept of Education revised 34 CFR 300.154(d), the Medicare consent and notice regulations. We posted a YouTube video about the revised reg and possible Medicaid Fraud. Click here for the video.
New IEP Pop-Up! Learn about IDEA requirements for Developing Your Child's IEP. Find answers to your questions, federal law or regulations that support these answers, and a list of additional resources.
You are Invited ... Visit the Wrightslaw Way Blog. Help us create a unique online community. Recent posts and comments ...
2013 Top Ten Signs of Special Ed Advocate Burnout
An Amazing Journey: Things You Can Do Under Section 504
Special Education / Education
Writing IEP Goals by Ruth Heitin, Ph.D

Special Education / Advocacy
Assertiveness & Effective Parent Advocacy
Legal Issues & Decisions

Decisions from Courts of Appeals
R.E., M.E., et al v. NYC Dept of Education (2nd Cir. 2012) - 2nd Circuit adopts the "snap-shot" rule to judge the adequacy of an IEP written in Burlington/Carter reimbursement cases; held that retrospective testimony about additional services that the also district "would have provided," but which were not offered in the IEP, cannot be used to rehabilitate an IEP or prove its adequacy.

Anchorage School District v. MP (9th Cir. 2012) In awarding reimbursement to the parents, the Court noted that "we are sympathetic to the difficulties posed by the obviously strained relationship between the ASD and M.P.'s parents, but this circumstance does not excuse the ASD from compliance with the IDEA. To conclude otherwise would subvert the purposes of the IDEA and sanction a school district's unilateral decision to abandon its statutorily required responsibility to the detriment of its students."

Anthony Zeno v Pine Plains School District (2d Cir. 2012) - Court upholds $1M jury award against NY school district that was deliberately indifferent to severe racial harassment of a special education student for 3 1/2 years ..."that [may have] a profound, long-term impact on Anthony's life and his ability to earn a living ..."

Individuals with Disabilities Education Act (IDEA 2004)
Legal Requirements of IEPs
Model Forms for IEPs, Procedural Safeguards, Prior Written Notice
What You Need to Know About IDEA 2004

Law School Exam - Give it a try. Take the Final Exam that Pete and Pam administered to their students at the William & Mary School of Law. To see one of their students in oral argument in an LRE case, click here.
Institute of Special Education Advocacy (ISEA). Registration is Open. ISEA 2013: July 28 - August 2, 2013. Meet the faculty and graduates from ISEA 2012; review the program agenda.
View the Slideshow. LIVE Blogging from ISEA 2012.

Free Flyers, Resources, Pubs
IDEA 2004 Resources
Help for College Students with Disabilities Flyer
Need to find an attorney, advocate, tutor, therapist in your state? Visit the Yellow Pages for Kids with Disabilities

Books, DVDs & Websites

For a year and a half, Pete and Pam Wright were Adjunct Professors of Law at the William and Mary School of Law where they taught a course about special education law and advocacy and assisted with creation of the Law School's Special Education Law Clinic.

They are co-authors of several books published by Harbor House Law Press.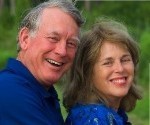 Wrightslaw: Special Education Law, 2nd Edition (ISBN: 978-1-892320-16-2, 456 pages) available in two formats, as a print publication and as a print and e-book combo.

Wrightslaw: From Emotions to Advocacy, 2nd Edition (978-1-892320-09-4, 338 pages)

Wrightslaw: No Child Left Behind with Suzanne Whitney (ISBN: 978-1-892320-12-4); includes the NCLB CD-ROM of resources and references.
Wrightslaw: All About IEPs (ISBN: 978-1-892320-20-9, 192 pages) by Pete Wright, Pam Wright, and Sue O'Connor.

Surviving Due Process: Stephen Jeffers v. School Board DVD Video - award-winning documentary, 2 hours.

Pete and Pam built several websites to help parents of children with disabilities in their quest for quality special education programs.

Fetaweb.com, the companion website to Wrightslaw: From Emotions to Advocacy, has advocacy information and resources to supplement the FETA book.

IDEA 2004 at Wrightslaw provides current information about the Individuals with Disabilities Education Act of 2004 (IDEA 2004). Learn about new requirements for IEPs, IEP teams, IEP meetings, eligibility, evaluations, eligibility for specific learning disabilities, child find, reevaluations, parental consent, accommodations, alternate assessments, transition, and more.

No Child Left Behind at Wrightslaw offers accurate, up-to-date information about the No Child Left Behind Act - research-based instruction, proficiency testing, parent involvement, tutoring and supplemental educational services, highly qualified teachers, and public school choice.

At the Yellow Pages for Kids with Disabilities, you'll find listings for educational consultants, advocates, advisors, psychologists, diagnosticians, health care specialists, academic tutors, speech language therapists, and attorneys. You'll also find government programs, grassroots organizations, disability organizations, legal and advocacy resources, special education schools, and parent support groups.

Last revised: 05/21/13